Warwick Long – Osteopath and Feldenkrais Practioner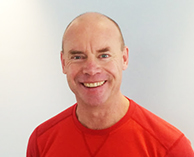 Warwick Long
Osteopathy graduate and Feldenkrais Practioner
Career:
The movement of the human body has long fascinated Warwick, which led him to study the subject and work in the fields of contemporary dance and Physical Education for over 20 years.
In 1994, he received a certification to teach Iyengar yoga method, then wanting to go further in his education, he commenced studies in the Feldenkrais Method of Somatic Education. This included a certification of 1000 hours of training, which he obtained in 1999.
In 2002, he obtained his master's degree with distinction in physical education from the University of Otago, New Zealand where he was also a Senor Teaching Fellow in the School of Physical Education. Since that time, he has taught the Feldenkrais Method in several physiotherapy clinics in the region of Montreal and presented internationally in Europe and Brazil.
Since 2003 Warwick has been on the teaching Faculties at the University of Quebec at Montreal and Concordia University where he teaches courses in anatomy, contemporary dance and somatic education.
Interventions offered by Warwick:
Osteopathic treatment and the Feldenkrais Method of Somatic Education, addressing postural rehabilitation and alignment so that clients can move with minimum effort and maximum efficiency.
More INFOS
Get in touch with Warwick
To make an appointment with Warwick
One of the best ways to make an appointment with Warwick is to make use of our online appointment service. To have access to it on your mobile phone, an "app" needs to be download.
Click on the link to access our professionals' schedule.
Warwick Long
Send Mail to Warwick
Phone: (514) 639-3809
Warwick's Schedule
DORVAL CLINIC
Monday: not available
Tuesday: from 10:00 am to 7:00 pm
Wednesday: not available
Thursday: not available
Friday: not available
Saturday and Sunday: not available
Interventions offered by Warwick :
Fees
Osteopathy

: $95 per treatment
Receipts issued
Which treatment is right for you? Osteopathy? Physiotherapy? 
First of all it is important to know that these options are not silos; several osteopathy graduates are physiotherapists or other variants of physical rehabilitation.
But generally a physiotherapist will be called upon to intervene for a specific injury situated on a specific point of the body. The objective of the treatment plan will be to restore the full amplitude of movement within the possibilities of the limb or joint (surgery or a cast may have reduced the amplitude), to get back loss of strength, and all of this with little or no pain. The techniques are: mobilization, strengthening, stretching, warming up, electrostimulation and cryotherapy. 
The osteopathy graduate is more interested in the root of the problem. For example if you have an ankle sprain, what happened to your posture? Your knees? Your spine? The osteopathy graduate will treat the body as a whole to prevent recurring problems all the while taking care of the injury itself. In addition, the osteopathy graduate can treat problems that are other than articular, tendinous or muscular. Other treatment tools of the osteopathy graduate are cranio-sacral therapy for neuro-hormonal normalization and visceral mobilizations. Their primary goals are to restore blood circulation in a specific region to promote healing and achieve better tissue function. Earlier we mentioned that several osteopathy graduates came from the rehabilitation world: physiotherapists, sports therapists, occupational therapists, nurses, etc. What often motivates these people to go into osteopathy is the frustration of treating people for conditions and seeing little or no improvement in the healing. Thus with osteopathy they feel they have more tools in their box to tackle the root of the problem. 
How does acupuncture fit into all this? Acupuncture offers a logical progression in our treatment options. If physiotherapy treats locally and osteopathy takes the body as a whole, then acupuncture touches on the energy level. This is thanks to meridians, needles and an approach refined by thousands of years of practice (historians say that acupuncture was mentioned in India 5000 years ago). Some benefits of acupuncture are regularly recognized by modern science and medicine.
Speak to someone to book an appointment
From Monday to Friday 8:00 AM to 8:00 PM | Saturday 8:30 AM to 16:00 PM