Linda Archambault – Naturopath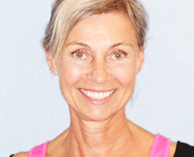 Linda Archambault
Naturopath
After enriching my knowledge for over 20 years in the field of dental health, and eager to participate in a more comprehensive approach to health, I trained at the Alternative Medicine College of Quebec, and graduated in naturopathy. 
My practice is greatly inspired by the work and teachings of Drs Peter and Bruno Tondelier Chacornac at the University of Lille in France, the research of Dr. Gerard Guéniot, as well as Drs Dickson Thom and Mikhael Adams at the National College of Oregon. 
Through continuing education, I received from these researchers and educators in the United States and Ontario, I had the chance to improve my embryotherapy, a branch of herbal medicine that is still little known in Canada that use stem cells from natural plants. These simple treatments and the highest efficiency in adjuvant quickens the action of nutritional therapy, it is already well known for its curative effects in humans. 
It is with great pleasure that I joined the team of Clinique santé Guindon to offer guidance as an educator and counselor for natural solutions of metabolic and physiological disorders. 
Naturally yours, 
Linda Archambault n.a
More INFOS
Get in touch with Linda
To make an appointment with Linda
One of the best ways to make an appointment with Linda is to make use of our online appointment service. To have access to it on your mobile phone, an "app" needs to be download. Click on the logo to access our professionals' schedule.
Linda Archambault
Send Mail to Linda
Phone: (514) 639-3809
Linda's Schedule
DORVAL CLINIC
Monday: from 5:00 pm to 8:00 pm
Tuesday: by appointment
Wednesday: by appointment
Thursday: by appointment
Friday: from 8:00 am to 10:00 am
Saturday and Sunday: not available
Interventions offered by Linda :
What is Naturopathy
Et Epigonus quidem amictu tenus philosophus, ut apparuit, prece frustra temptata, sulcatis lateribus mortisque metu admoto turpi confessione cogitatorum socium, quae nulla erant, fuisse firmavit cum nec vidisset quicquam nec audisset penitus expers forensium rerum; Eusebius vero obiecta fidentius negans, suspensus in eodem gradu constantiae stetit latrocinium illud esse, non iudicium clamans.
Quod si rectum statuerimus vel concedere amicis, quidquid velint, vel impetrare ab iis, quidquid velimus, perfecta quidem sapientia si simus, nihil habeat res vitii; sed loquimur de iis amicis qui ante oculos sunt, quos vidimus aut de quibus memoriam accepimus, quos novit vita communis. Ex hoc numero nobis exempla sumenda sunt, et eorum quidem maxime qui ad sapientiam proxime accedunt.
Speak to someone to book an appointment
From Monday to Friday 8:00 AM to 8:00 PM | Saturday 8:30 AM to 16:00 PM