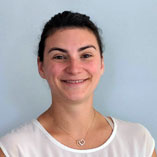 Veronique Rondeau
Osteopath and Athletic Therapist
Veronique is a certified Athletic Therapist who trained at Concordia university and a osteopath therapist.
Veronique comes from a passionate background of competitive gymnastics where she competed both provincially and nationally. Her passion for sports carries over in her professional life where she is the Head Athletic Therapist for Montreal Roller Derby taking care of injury prevention, rehabilitation and emergency care. Veronique also has experience clinically treating a wide range of athletes ranging from hockey, soccer, football, circus and gymnastics.
More INFOS
Get in touch with Veronique
To make an appointment with Veronique
One of the best ways to make an appointment with Veronique is to make use of our online appointment service. To use it on your mobile phone, you will need to download the GOrendez-vous app or use it right away if you are on a desktop.
Click on the logo to access our professionals' schedule.

Veronique Rondeau
Veronique's Schedule
DORVAL CLINIC
Monday : 2:00 PM to 7:00 PM
Tuesday : not available
Wednesday : not available
Thursday : not available
Friday : 8:00 AM to 12:00 AM
Saturday and Sunday: not available
Interventions offered by Veronique :
Fees
Osteopathy and athletic therapy: 

$80 per treatment
Receipts issued
Osteopathy RITMA
Athletic Therapy CAT(c)
Speak to someone to book an appointment
From Monday to Friday 8:00 AM to 8:00 PM | Saturday 8:30 AM to 16:00 PM