Wissam Wehbe – Intern in Osteopathy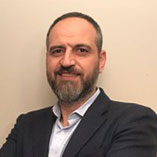 Wissam Wehbe
Intern in Osteopathy
Wissam cumulates more than 15 years of experience in physiotherapy which led him to osteopathy as a mean to further his knowledge of the human body. Parallel to that discipline, he also delivered massage therapy at Le Finlandais in Rosemere & at the Delta Hotel's Mann Spa.
Wissam can help you relieve specific issues in osteopathy.
More INFOS
Interventions offered by Wissam :
Get in touch with Wissam
To make an appointment with Wissam
One of the best ways to make an appointment with Wissam is to make use of our online appointment service. To use it on your mobile phone, you will need to download the GOrendez-vous app or use it right away if you are on a desktop.
Click on the link to access our professionals' schedule.

Wissam Wehbe
Phone: (514) 639-3809
Wissam's schedule
DORVAL CLINIC
Monday : not available
Tuesday : not available
Wednesday : not available
Thursday : not available
Friday : 8:00 AM to 12:00 AM
Saturday and Sunday: not available
Fees
Osteopathy : 

$85 per treatment
Receipts issued
Osteopathy (RITMA)
Osteopathy combined with massotherapy (Réseau des massothérapeutes professionnels du Québec)
Speak to someone to book an appointment
From Monday to Friday 8:00 AM to 8:00 PM | Saturday 8:30 AM to 16:00 PM