Stephan Guindon – Physiotherapist and Osteopath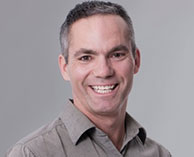 Stéphan Guindon
Physiotherapist and Osteopath
Driven by his desire to understand the human body, Stéphan Guindon commenced a Bachelor of Physical education at McGill University in 1989.  During his undergraduate degree, he also attended clinics in Athletic Therapy at the McGill Sports Medicine Clinic. 
Motivated by a strong desire to further explore human physiology and anatomy, he enrolled in a bachelor of science in in physiotherapy at McGill, which he completed in 1994. During his training, he was the coordinator of sports physiotherapy department at Vanier College. He gained experience as a first responder assessing and treating sports injuries under the supervision of a physiotherapist for college sports teams, including football and basketball.
Following his graduation in physiotherapy, he perfected his clinical practice evaluating and treating a variety of orthopedic conditions for people suffering from back, neck and joint pain. In addition, Stephan has been a physiotherapist for the Canadian junior alpine ski team.
In desiring to further his learning, Stéphan enrolled at the Centre Osteopathic du Quebec (COQ) in 1996. After six years of extensive studies in osteopathic evaluation, technique and treatments, he graduated with a diploma in osteopathy in 2002. During this period he also developed his own physiotherapy and osteopathy clinic in Calgary.
Since 25 years, Stephan Guindon has offered his services in Physiotherapy and Osteopathy at his clinic in Lachine, Dorval and Calgary, while continuing further education in specific clinical aspects of the profession.
More INFOS
Get in touch with Stephan
To make an appointment with Stéphan
To make an appointment with Stéphan use our online appointment service or by phone at (514) 639-3809
Stéphan Guindon
Send Mail to Stéphan
Phone: (514) 639-3809
Stéphan's Schedule
ATTENTION
I do practice in Dorval and also in Calgary.
Please note my shedule for those different clinics.
DORVAL CLINIC
Monday: from 8:00 am to 5:00 pm
Tuesday: from 8:00 am to 5:00 pm
Wednesday: from 8:00 am to 5:00 pm
Thursday: from 8:00 am to 5:00 pm
Friday: from 8:00 am to 4:00 pm
Saturday: from 9:00 am to 12:00 pm
Sunday: not available
Evenings available upon request
CALGARY CLINIC
One week in March, June and October
Interventions offered by Stephan :
Fees
Osteopathy and physiotherapy with an osteopathic approach

: $95 per treatment
Receipts issued
Our holistic approach
The majority of people who visit a physiotherapist with an osteopathic approach have pain in their back, neck or joints (shoulders, knees, ankles, etc.). The pain can be caused either by an accident, a fall, a surgery scar or any type of repetitive movements. Sometimes they even appear for no apparent reason.
Here are some conditions that are regularly encountered in clinics:
Tendonitis and bursitis
Numbness
Headaches and migraine
Arthrosis
Fibromyalgia
Fatigue and stress
Sports injuries
Sinusitis, allergy and asthma
Digestion problem: constipation, diarrhea, bloating, reflux, etc.
Menstrual pain
Menopause symptoms
Conditions related to pregnancy
Conditions in infants and children (colic, torticollis, ear infections, etc.).
 
The main goal is to treat manifesting tissue restrictions in the spine, pelvis, organs and nervous system.  After a session, the treated area will feel better but most likely a global sense of well-being will be experienced. For instance, it can result in sleep and energy improvements.
A different perspective on health
Speak to someone to book an appointment
From Monday to Friday 8:00 AM to 8:00 PM | Saturday 8:30 AM to 16:00 PM