Effective treatment for: Back pain, pain in the migraines, insomnia...
Osteopathy is based on manual techniques aimed at restoring the mobility of the different structures of the body. It is based on the idea that any loss of mobility of muscles, tendons, viscera, skull or envelopes(fascia) induces dysfunctions of the organism.
Osteopaths therefore aim to put this body mechanics back into function with the aim of creating a regulation of all the physico-chemical parameters of the body. They mainly treat physical and psychosomatic dysfunctions.
The osteopath has different therapeutic approaches that he considers adapted to the specific needs of the patient. These include:
passive joint mobilization techniques
active joint mobilization techniques
reflex techniques
mobilization techniques for soft and peri-osseous structures
psycho-cognitive techniques
Palpation looks for somatic dysfunctions in all tissues of the body. Apart from the examination, the hand is the essential tool for both diagnosis and treatment. Osteopathy addresses the whole body. This would explain why the action of osteopathy on the body is not local, but affects the whole body. The osteopathic techniques would have a beneficial action on the following fields:
the locomotor system: certain rheumatisms, lumbagos, sprains, torticollis
the visceral system: some constipation, diarrhea, bloating and irritable bowel syndrome,…
the "cranial" system: certain headaches, chronic otitis, vertigo, buzzing, blocked noses, chronic sinusitis, infant colic, difficult children who cry often, insomnia, dyslexia and problems related to learning, memory, concentration and facial neuralgia
At the Clinique Physio Guindon in Dorval, our qualified osteopaths offer a variety of services, including:
Assessment and treatment of musculoskeletal disorders
Treatment of posture disorders
Support for digestive and respiratory problems
Care for pregnant women and infants
Relaxation techniques for stress management
Concussions
Neurological conditions such as post-stroke
TMJ pain
Treatment Process:
The first visit includes a comprehensive evaluation to identify health problems and understand your treatment goals. Then, a personalized treatment plan is designed, using a variety of manual techniques to restore the body's balance.
Benefits:
Relieves pain and improves mobility
Promotes the body's natural self-healing process
Treats the whole body, not just specific symptoms and the source of the problem
Helps prevent future injuries
Improves posture and athletic performance
Who is this service for?
Osteopathy can be beneficial for people of all ages and health levels, whether dealing with musculoskeletal problems, posture disorders, digestive or respiratory issues, or stress management.
For more information
Contact the Clinique Physio Guindon in Dorval to learn more about our osteopathy services and how we can help you achieve your health goals.
Effective treatment for: Back pain, pain in the migraines, insomnia...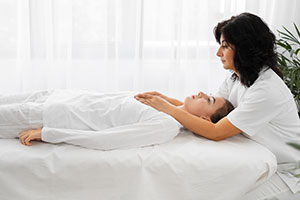 Physiotherapist and graduate in osteopathy
Driven by his desire to understand the human body, Stéphan Guindon enrolled in a physical education program in 1989 … [Read more]
Study Osteopathy
She is now in her 4th year in the course at the "Center Ostéopathique du Québec" and has all the tools necessary to treat several problems commonly encountered in an osteopathy clinic… [Read more]