Pierre David Pinault – Massage Therapist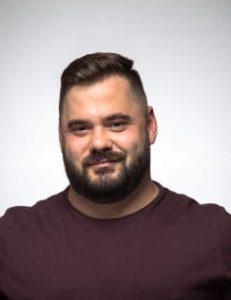 Pierre-David Pinault
Massage therapist
WELCOME TO OUR NEW MASSAGE THERAPIST: PIERRE-DAVID PINAULT
Pierre-David suspended his studies in kinesiology to act as a caregiver for an immediate family member. As a result, he realized the power of touch and his passion for massage therapy. He consequently completed a training in massage therapy with a specialization in Swedish massage.
With his background in personal training and martial arts, he is pursuing his training in sport massage therapy with more focus on deep tissue massage and the release of trigger points. 
More INFOS
Pierre-David's schedule
DORVAL CLINIC
Pierre-David WILL BEGIN his massage therapy treatments on september 8th 2020.
Monday : not available
Tuesday : from 6:00 pm to 9:00 pm
Wednesday : from 4:00 pm to 9:00 pm
Thursday : not available
Friday: will be soon be available
Saturday: will be soon be available
Sunday: not available
Get in touch with Pierre-David
To make an appointment with Pierre-David
One of the best ways to make an appointment with Pierre-David is to make use of our online appointment service. To use it on your mobile phone, you will need to download the GOrendez-vous app or use it right away if you are on a desktop.
Click on the link to access our professionals' schedule.

Pierre-David Pinault
Phone: (514) 639-3809
Interventions offered by Pierre-David :
Fees
Service
Length
Fees
Special offer spéciale
$ 20 off the first 90-minutes massage therapy visit / treatment with Pierre-David Pinault. This offer is valid from September 8th, 2020 to October 3rd 2020 inclusively.
Cannot be combined with any other offer.
Massage
60 min
$65
Massage
90 min
$90
Receipts issued
Massage Therapy – réseau des massothérapeutes professionnels du Québec
What is Sports physiotherapy?
A different perspective on health
Speak to someone to book an appointment
From Monday to Friday 8:00 AM to 8:00 PM | Saturday 8:30 AM to 16:00 PM
Ours Articles of the Clinique