Sylvain Trudel – Acupuncturist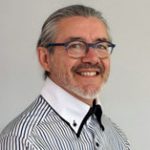 Sylvain L. Trudel
Membre de l'Ordre
des acupuncteurs du Québec

"Cette publicité n'est pas
une publicité de l'Ordre professionnel
des acupuncteurs du Québec
et n'engage que son auteur".
Acupuncturist
Training:
Sylvain L. Trudel was trained in Chinese Medicine in Montreal and Quebec City with the  Collège de Médecine Chinoise et Culturelle. Graduating in 1987, Sylvain has over 25 years of experience.
Career:
After working in Quebec city and Baie-Comeau, Sylvain settled in the west of the island of Montreal in 1998.
His specialization is oriented  towards  evaluating and treating; back, neck and articular pain, hormonal imbalances (PMS, menopause related problems cycle), insomnia, etc.
In addition, he has trained in craniosacral therapy since 2004. Sylvain also uses the soft laser for  children and those who fear the pain of needles.
More INFOS
Get in touch with Sylvain
To make an appointment with Sylvain
One of the best ways to make an appointment with Sylvain is to make use of our online appointment service. To have access to it on your mobile phone, an "app" needs to be download.
Click on the link to access our professionals' schedule.
Sylvain Trudel
Send Mail to Sylvain
Phone: (514) 639-3809
Sylvain's Schedule
DORVAL CLINIC
Monday: not available
Tuesday: from 1:00PM to 8:00 PM
Wednesday: not available
Thursday: from 1:00 PM to 8:00 PM
Friday: not available
Saturday and Sunday: not available
Interventions offered by Sylvain :
Fees
Initial assessment: 

$95

Subsequent visits: 

$75
Receipts issued
Introduction to acupuncture
Chinese medicine includes acupuncture, Chinese herbology, physical manipulation, Qi Qong and Tai Qi.
Acupuncture is based on a system of meridians. These are the segments of a long line that serves to circulate energy and each line is named after the organ that it irrigates and nourishes.
The University of Paris scientifically recognized the existence of meridians in 1985, thus demonstrating the credibility of acupuncture to the skeptics. To do this, the researchers inserted radioactive cobalt in an acupuncture point and followed its path.
They were able to compare and prove that the design laid out by the cobalt in the bloodstream (veins/arteries), nervous and lymphatic system was similar in all respects to the meridians identified on the body by the Chinese acupuncturists. In addition, the electrical potential of acupuncture points located on these meridians proved to be different from those located in other parts of the body that are not acupuncture points.
The medical exam done by acupuncturists serves to evaluate the energetic quality of each organ. It helps to determine the state of emptiness or fullness of the organs (meaning the lack of energy of the kidney or the plenitude of power of the liver). Acupuncturists can then access the specific points associated with the emptiness or fullness and restore the balance in the affected organs. He will use needles or a soft laser on acupuncture points to rebalance the energy bodies and thus restore health.
Treat yourself to an energy rebalancing twice a year (spring and fall), as it will help you maintain maximum health. The cost is worth enjoying a increase in vitality, improved sleep and better concentration in your daily activities.
"EVERYTHING IS POSSIBLE WHEN YOU HAVE YOUR HEALTH"
Introduction to acupuncture
Speak to someone to book an appointment
From Monday to Friday 8:00 AM to 8:00 PM | Saturday 8:30 AM to 16:00 PM